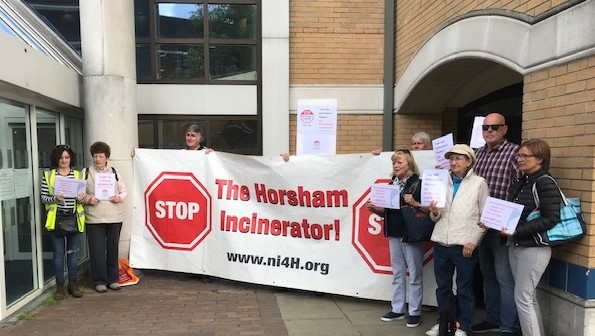 With only 9 weeks to the start of the Inquiry here is the latest news from No Incinerator 4 Horsham Community Group (NI4H).

The crane currently towering over Horsham at the Bishops Weald site at its highest resting point is 86m high, the proposed incinerator stack is 95m high.  
Peter Catchpole, Chairman NI4H said:
I would like to say a big thank you to everyone who supported and starred in our Rock Off event at the REC Rooms. The feedback has been fantastic, and the resulting income has made a welcome financial contribution to NI4H funds. However, so that our objections can be made, as compellingly as possible, at the Public Inquiry in October, we still need to raise more money. This will ensure we have sufficient funds for full representation at the three-week Inquiry.
Residents in Horsham have given an overwhelming NO vote through petitions and high levels of objection to the proposed development of an incinerator in our area. They are rightly concerned about their future wellbeing and that of future generations if an incinerator comes to this area and the wholesale change of character that would be brought to our town and increased numbers of HGVs to our roads. It would be out of keeping with its surroundings, the massive structure would overwhelm existing buildings in the surrounding area and would have a major harmful impact on our rural countryside.
It is now only 9 weeks before the Inquiry begins please can I ask you to give all the help you can by donating or pledging money today. For further information, donations and pledges go to NI4H website www.ni4h.org  or email noincinerator4horsham@gmail.com
NI4H Fundraising
NI4H are busy planning an Autumn Fair with craft stalls and children's activities, an Afternoon Tea, a Barn Dance, a Quiz and there's even talk of Rock Off 2! 
Could you bake cakes, serve teas, donate prizes, help with an event?
Please write to Peter or email: noincinerator4horsham@gmail.com

Too busy or not able to give practical help? 
Please give as generously as you can now, or pledge money to be paid by the end of November 2019, give monthly from August to November by direct debit, post dated cheques or PayPal. 

Please Donate or Pledge to NI4H Today
Bank transfer: Sort Code: 53-50-39 Account Number: 55388027
Debit/Credit card, PayPal or Go Fund Me: www.ni4h.org
Cheque: payable to: 'No Incinerator 4 Horsham' send to: Ni4H Chairman, Peter Catchpole, Northlands House, Northlands Road. Horsham RH12 5PW.
Contact NI4H: email noincinerator4horsham@gmail.com

Have You Signed the New Petition?
Please Sign and Share the new Petition which was started in January 2019, asking the Planning Inspector to dismiss the appeal for planning permission for the proposed Horsham Incinerator. The petition has 1,735 signatures including those on paper copies. http://chng.it/CMVhnsRbwp

Thank you.