Say No to the Horsham Incinerator
No Incinerator for Horsham Community Group (Ni4H) is a voluntary group formed in 2016 by local residents to raise awareness and campaign against the proposal for a large-scale incinerator in Horsham. 
Please Donate to Ni4H for Expert Technical & Legal Advice 
Bank Transfer: No Incinerator 4 Horsham
Sort code: 53-50-39  Account number: 55388027
PayPal: using credit card debit card or PayPal via this link
       Cheque: Payable to:  No Incinerator 4 Horsham
Send to:   Ni4H Chairman, Peter Catchpole, Northlands House, Northlands Road. Horsham RH12 5PW
Thank you
ENVIRONMENTAL PERMIT
Pl
anning permission 
was granted 
subject to conditions in February 2020, 
following the Public Inquiry but a
n environmental permit 
is also required, 
which the Environment Agency is responsible for granting or refusing. 
The
 design
 needs to meet 
the high standards and risk assessments for this type of operation. 
A
ll the relevant document
s
 will be available to view, they will consult widely with people and relevant organisations, who will be able to submit comments. 
The Environment Agency can only take account of comments relevant to the environmental regulatory requirements, including technical standards, noise and odour from the site and whether the potential impact is acceptable. 
They cannot take account of anything outside of the remit of environmental permitting, for example, the proposed location, visual impact, traffic travelling to and from the site or whether the activity should be allowed or not.
PREVIOUS INFORMATION
Britaniacrest Recycling Ltd lodged a planning appeal against refusal of planning permission by West Sussex County Council. Ni4H's Interested Party Statement was submitted to the Planning Inspector on 4th March 2019.
Our focus now is raising funds for technical expert reports and a barrister, to enable Ni4H to be a Rule 6 Party at the Public Inquiry.
Ni4H respectfully requests that the Inspector dismisses the Appeal.
Fundraising for Expert Reports and a Barrister
We have a great team researching and helping prepare documents, now we urgently need to raise money to pay for a barrister and technical expert reports.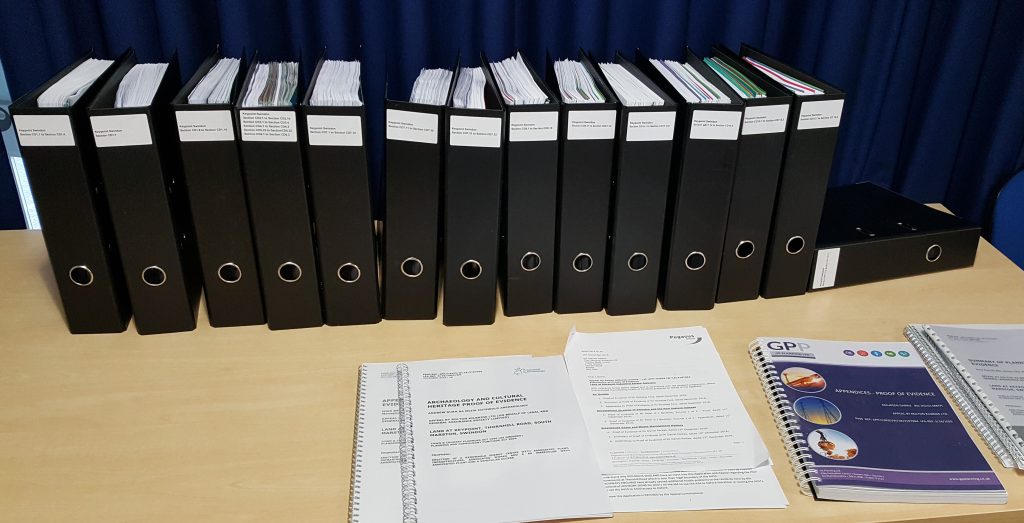 Evidence files at the Keypoint Incinerator Public Inquiry, Members of Ni4H attended several days of the Inquiry in Swindon.
With Rule 6 status No Incinerator 4 Horsham would be considered to be a main party, sent copies of the documents sent to the Inspector by the appellant (Britaniacrest), West Sussex County Council and any other Rule 6 parties. Our barrister and technical experts would appear at the inquiry and cross-examine other parties.
3-Week Public Inquiry
From 10am Tuesday 29th October at a Horsham Sports Club, Cricketfield Road, Horsham, RH12 1TE.
Members of the public can attend and you can request to speak for a few minutes at the Public Inquiry, representing yourself, a group or business, even if you did not send application or appeal comments.
You need to attend Day 1 of the Inquiry, 10am Tuesday 29th October, at Horsham Sports Club, or send a proxy to register your name. (Ni4H could act as your proxy.) You will be advised when to attend to speak, the option of an evening session is being requested.
Like / follow our Appeal Facebook page for daily programme updates during the Inquiry: Ni4H Facebook Appeal page.
Please contact Ni4H for more information.
HELP WITH A FUNDRAISING EVENT:
Ni4H has teams organising fundraising events, please contact us with your ideas and join one of the teams.
Donations of tombola and raffle prizes and items to auction are very welcome.
Contact us by email: noincinerator4horsham@gmail.com
TELL YOUR FAMILY AND FRIENDS:
So many people still do not know about the plans or the appeal. Thank you.
New Petition Launched
Many thanks to all who helped collect the 1,314 signatures, 425 on paper copies and 889 online, all submitted to the Planning Inspector on 4th March 2019, together with the comments.
We continue to collect petition signatures and comments to present to the Planning Inspector at the Public Inquiry commencing on 29th October 2019.
Planning Inspectorate: Dismiss the appeal for planning permission for the proposed Horsham Incinerator.
Please sign and share the petition
No Incinerator 4 Horsham Community Group – Constitution 4.4.19
1. Name – No Incinerator 4 Horsham Community Group (Ni4H)
2. Aims
• Campaign against any incinerator proposals in Horsham, West Sussex.
• Independent of any government, political party or religion.
• Concerned with safe, sustainable waste management: Reduce, Reuse and Recycle.
3. Membership – Anyone who supports these aims can join, membership is free. Members shall be entitled to receive occasional news and may participate in all General/Open meetings of the Group.
4. Management – Ni4H Steering Group makes the decisions.
5. Officers – Chairperson, Research Coordinator, Secretary, Treasurer, Fundraising Coordinator and Steering Group Members.
6. Meetings – as arranged by the group. The rights and views of each individual shall be respected, and meetings conducted in a way that allows all individuals to participate positively and without fear of intimidation. Some individuals do not wish to have their photograph taken or to feature in any publicity. Agreement to be sought before taking photos or videos and time allowed for individuals to move aside.
7. Funds – managed by the Treasurer, bank and PayPal account holders, two signatures / authorisations are required to withdraw or transfer funds. Maintain accurate records of all financial transactions and present a financial statement at all meetings.
8. Dissolution – When the group ends any remaining funds will be donated as agreed by the Steering Group.
9. Amendments to the constitution – as agreed by the Steering Group.