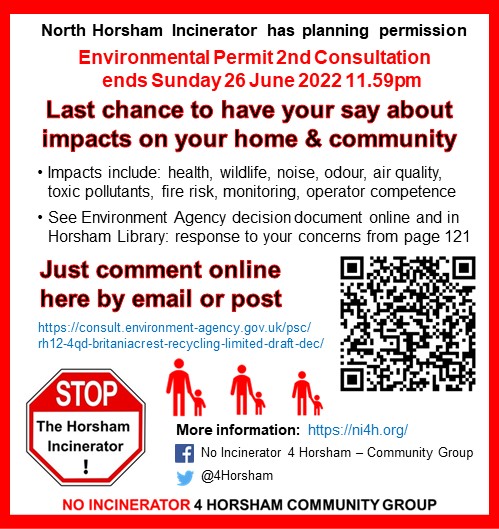 Last Chance to Have Your Say
The proposed incinerator Horsham incinerator site is in North Horsham off the A264 in Langhurstwood Road, near Warnham Station and the under-construction Mowbray Village. Planning Permission was granted following an Inquiry, an Environment Agency (EA) permit is also needed.
Environment Agency Summary Includes:
• We have carefully considered all of the documents provided to us by Britaniacrest Recycling Limited, as well as your consultation comments. We cannot find any reason that would cause us to refuse the permit variation application.
• We think we may issue the permit variation to Britaniacrest Recycling Limited; this is called a 'minded to' decision.
• We have written a draft permit variation document and a draft decision document. We would like you to read them. Please send any comments by 26 June 2022 11.59pm.
Ni4H is busy working with legal and technical experts preparing a response to the EA
The community needs to feel safe and secure with a proposal of this magnitude in our area and ensure the public are n't at risk.

Peter Catchpole, Chairman of Ni4H
Ni4H recently had a further very helpful meeting with our MP, Jeremy Quin.
I was pleased to see representatives from No Incinerator 4 Horsham who have been very effectively representing the community's concerns about the planned incinerator North of Horsham. It was a good update as the team considers the latest consultation launched by the Environment Agency.

Jeremy Quin, MP
Impacts
Impacts of the proposal include health, wildlife, noise, odour, air quality, toxic pollutants, fire risk, monitoring and operator competence, as a company with haulage expertise wishes to venture into new territory with the construction and management of a huge incinerator.
Have you commented yet?
Last chance to have your say on the Horsham incinerator!
It's easy to do a short comment online, by email or post marked: Variation application: EPR/CB3308TD/V002
Online: https://consult.environment-agency.gov.uk/psc/rh12-4qd-britaniacrest-recycling-limited-draft-dec/
Email: pscpublicresponse@environment-agency.gov.uk
Post: Environment Agency, Permitting and Support Centre, Environmental Permitting Team, Quadrant 2, 99 Parkway Avenue, Parkway Business Park, Sheffield S9 4WF
The EA must receive your comments by 11:59pm on 26 June 2022