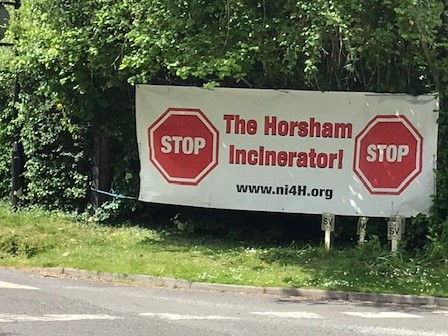 Where's the Ni4H banner this week? Could you make banners / placards for your fence, front garden, business land and for your neighbours?
We can send you images to print, laminate, paint or design your own, please include the website: ni4h.org and send us a photo! We'd love to see children's posters and images to use on social media.
THE PLANNING INSPECTOR is coming to Horsham on Thursday 6th June, for a Pre-inquiry meeting which the public can observe. Your banners and posters would help show him and the developers, what local residents think about plans to build a huge commercial and industrial incinerator in rural Horsham.
PLEASE TELL OTHERS and register your interest in the Pre-inquiry Meeting to receive any updates, ensure enough seats are available and please join the crowd outside before the meeting at 9.30am.