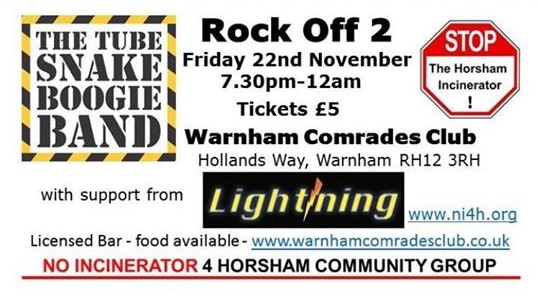 ROCK OFF 2 @ Warnham Comrades Club – The Tube Snake Boogie Band with support from Lightning on Friday 22nd November 7.30pm – 12am. Tickets £5.
HEADLINING
The Tube Snake Boogie Band – Playing Rock n Roll n Boogie covers together for over 13 years, ZZ Top, Thin Lizzy, Ozark Mountain Daredevils, AC/DC, The Faces, Manfred Mann's Earthband to name but a few……total party music !!
SUPPORT FROM
Lightning – Sam and Ben, brothers of 10 and 9, Rock and Roll Band gigging for 2 years, with additional guitarist Rob Holder and bassist Andy Hosegood to support them, until they find other youngsters to join them playing AC/DC, Queen, Foo Fighters, Slade, Thunder, Bryan Adams, Blur, Reef and many more….
www.samandbenrockandroll.com

VENUE
Warnham Comrades Club, Hollands Way, Warnham RH12 3RH.
Licensed bar. Pizzas, crips and snacks available from the bar.
www.warnhamcomradesclub.co.uk/
RESERVE TICKETS

£5 each available from Warnham Comrades Club or Ni4H.
Email noincinerator4horsham@gmail.com or message
Facebook Events: No Incinerator 4 Horsham – Appeal Campaign

Pay by: Bank Transfer reference ROCK + your name to
Sort Code: 53-50-39 Account Number: 55388027 or


FUNDRAISING – for No Incinerator 4 Horsham (Ni4H) Community Group
MORE INFORMATION
Email: noincinerator4horsham@gmail.com