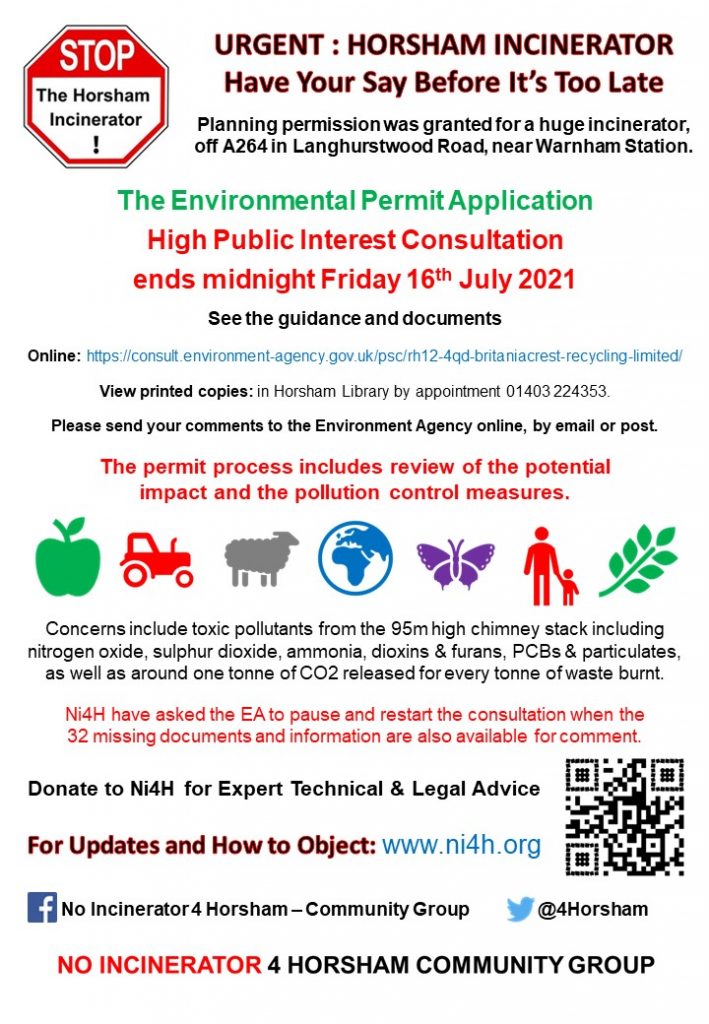 Please comment online, by email or post
Our Concerns Include
Toxic pollutants from the 95m high chimney stack including nitrogen oxide, sulphur dioxide, ammonia, dioxins and furans, PCBs and particulates, as well as around one tonne of CO2 released for every tonne of waste burnt.
Britaniacrest (a skip hire and waste management company) are proposing to build and manage the operation of this incinerator, but do they have the experience to do this without risk to our health or the environment?
Noise, vibration, dust and odours from activity and traffic onsite, affecting people in existing and new homes, schools, businesses and wildlife.
Ash and hazardous residues (around 23-29% of the waste burnt) contaminated with heavy metals and dioxins, transported off site for treatment or landfill.
At least 32 missing application documents, appendices, drawings and references, are unavailable for review by the consultees, Environment Agency and public.
Ni4H have asked the EA to pause and restart the consultation when the 32 missing documents and information are also available for comment.
See the consultation guidance and application documents
Planning issues are not relevant now. 
https://consult.environment-agency.gov.uk/psc/rh12-4qd-britaniacrest-recycling-limited/
View printed document copies:
In Horsham Library by appointment 01403 224353.
Email comments to:
pscpublicresponse@environment-agency.gov.uk
Post comments to:
Environment Agency, Permitting and Support Centre, Environmental Permitting Team, Quadrant 2, 99 Parkway Avenue, Parkway Business Park, Sheffield. S9 4WF
Quote variation application number:
EPR / CB3308TD / V002