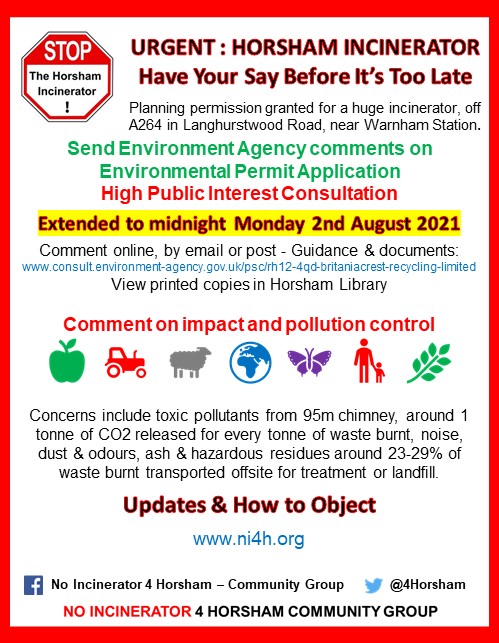 Comment on the permit application for the proposed Horsham Incinerator now!
The consultation deadline has been extended to midnight on Monday 2nd August. Please share and tell others before it is too late.
See the Guidance and Documents
Online: https://consult.environment-agency.gov.uk/psc/rh12-4qd-britaniacrest-recycling-limited/
View printed copies: in Horsham Library by appointment 01403 224353.
Please send your comments to the Environment Agency online, by email or post.
Email comments to: pscpublicresponse@environment-agency.gov.uk
Post comments to:
Environment Agency, Permitting and Support Centre, Environmental Permitting Team, Quadrant 2, 99 Parkway Avenue, Parkway Business Park, Sheffield S9 4WF
Quote variation application number: EPR / CB3308TD / V002
Greenhouse Gas (GHG) Impacts of Waste Incineration
The United Kingdom Without Incineration Network (UKWIN) comprises more than 100 member groups who oppose waste incineration. UKWIN opposes the incineration of waste, including via gasification and pyrolysis, because incineration depresses recycling, destroys valuable resources, releases greenhouse gasses, and is a waste of money. Incineration has no place in the zero waste closed-loop circular economy towards which we should be working.
On 15 July 2021 UKWIN published good practice guidance for assessing the greenhouse gas (GHG) impacts of waste incineration, providing recommendations for assessing GHG impacts of waste incineration. It is intended to be used by those carrying out such assessment as well as those reviewing or determining how much weight to give those assessments. The guide was created due to the inconsistent quality of such assessments (including those used to inform planning, permitting and policy decisions), and highlights areas where there is a genuine risk that adverse impacts of waste incineration could be significantly understated or misrepresented.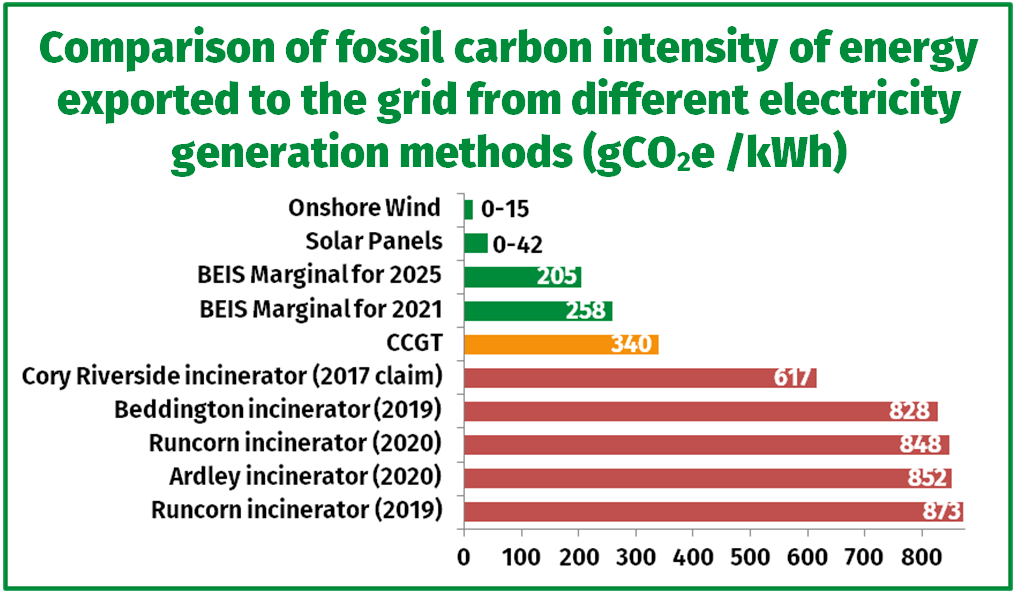 Electricity from incinerators is worse than gas (CCGT) or renewables and so
energy from waste incineration should not be described as 'low carbon'

The guide was created in response to the inconsistent quality of incinerator carbon assessments. It provides ten recommendations based on an extensive review of the approaches being used by industry practitioners and academics see below.
Building new incinerators costs hundreds of millions of pounds, locking us into burning waste for decades to come. It is therefore essential that those assessing proposals for new incineration capacity take account of the full climate impacts and opportunity costs.

Guide author Josh Dowen, Associate Coordinator of the United Kingdom Without Incineration Network (UKWIN)


Good Practice Guidance for Assessing the GHG Impacts of Waste Incineration
Available to download from https://ukwin.org.uk/climate
REPORT RECOMMENDATIONS
TRANSPARENCY AND OPENNESS TO SCRUTINY
1. Methodology and modelling assumptions, including underlying data and how it was derived, should be transparent and verifiable. Scrutiny of environmental claims made to support waste incineration should be facilitated rather than frustrated.
IMPACT OF WASTE COMPOSITION AND TECHNOLOGY ON ENERGY AND GHG OUTPUTS
2. Key outputs such as power export and greenhouse gas (GHG) emissions are dependent on waste composition and the processes used. When modelling future emissions it is necessary to ensure that outputs are internally consistent with inputs.
3. GHG impacts can be highly sensitive to waste composition. Waste composition assumptions should be justified and sensitivity analysis should be used to show the impacts of future changes such as increased food and biowaste collection.
4. While heat export, carbon capture, and pre-treatment to remove plastics can potentially reduce overall GHG impacts of incineration, there are also uncertainties regarding deliverability and/or overall impacts. Sensitivity and lifecycle analysis can be used to explore a range of possibilities and to reflect relevant uncertainties.
THE ROLE OF LANDFILL AS A BIOGENIC CARBON SINK
5. To produce a valid comparison when comparing waste treatment options such as landfill and incineration that release different quantities of biogenic CO2 it is necessary to account for these differences, especially the impact of the biogenic carbon sink in landfill.
DISCREPANCIES BETWEEN THEORETICAL AND REAL WORLD PERFORMANCE
6. The carbon performance of modern waste incinerators is often significantly worse than was predicted through modelling at the planning and permitting stages. This discrepancy between predicted and actual carbon performance needs to be taken into account when modelling, and robust sensitivity analysis is needed to ensure that CO2e emissions from incineration are not significantly underestimated.
7. Power export underperformance, e.g. due to turbine or generator failure or during commissioning, is a realistic prospect for modern waste incinerators that needs to be taken into account when modelling anticipated power output and associated climate impacts.
DISPLACEMENT OF OTHER SOURCES OF ELECTRICITY AND/OR HEAT
8. When considering the carbon intensity of displaced energy it is necessary to take account of the progressive decarbonisation of the energy supply rather than simply assuming that a new energy source would displace fossil fuels. The carbon intensity of electricity displaced by a new incinerator can be estimated using the average BEIS Long-Run Marginal Emissions Factor (MEF) over the lifetime of the plant.
WASTE TREATMENT COMPARATORS/COUNTERFACTUALS
9. When considering how waste would be treated if it were not sent to an incinerator, account should be taken of the prospect that it might otherwise have been reduced, reused, recycled or composted. Account should also be made of how landfilled waste could be bio-stabilised to reduce methane emissions.
LOW CARBON CLAIMS
10. Energy from mixed waste incineration should not be described as 'low carbon'. Incineration involves the direct release of significant quantities of CO2.