A new report published on 26th September 2023, by the UK Without Incineration Network (UKWIN), shows that if waste reduction targets are met English incineration capacity would exceed available feedstock by 2.6 million tonnes in 2027, with this overcapacity growing to 7.4 million tonnes by 2042, even if no additional incinerators are built.
The study shows how expansion in England would increase incineration overcapacity at local, regional and national levels, harming current and future efforts to reduce, reuse and recycle.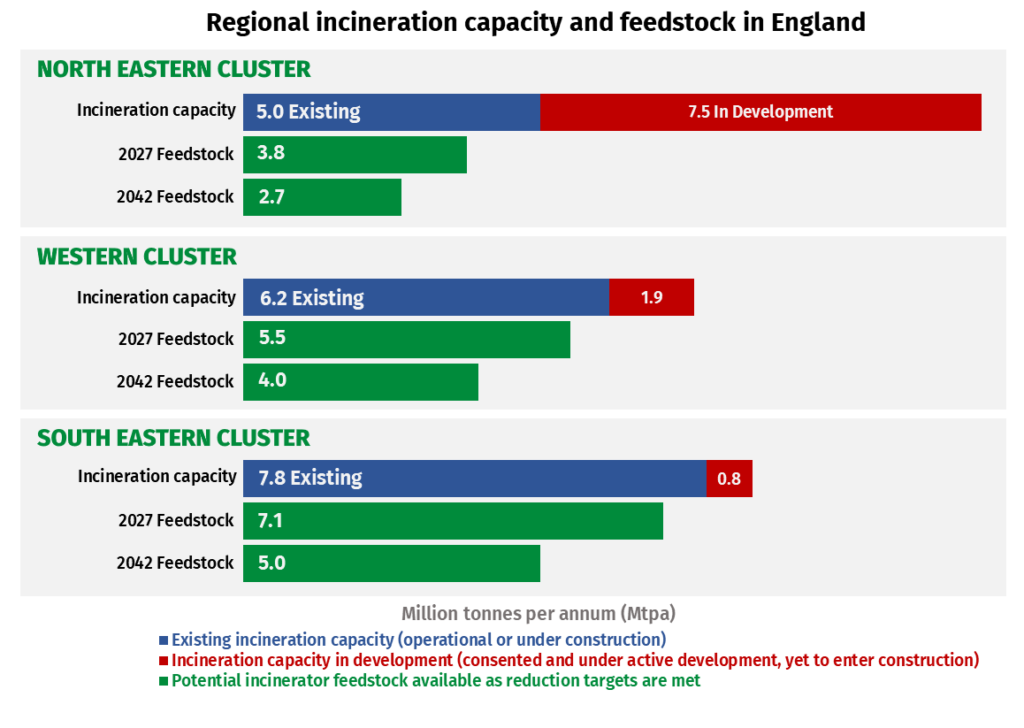 Most of what is incinerated is material that could and should have been recycled (including paper, card, plastic, and food). Limiting incinerator feedstock to genuinely residual waste would free up more than half the current capacity, undermining the rationale for building new incinerators.
There are 51 operational incinerators in England and 12 sites under construction with a combined total of 19 million tonnes of incineration capacity.
According to report author Josh Dowen: "The more incinerators that are built, the greater the pressure to feed them, and the greater the threat to the top tiers of the waste hierarchy. As our report shows, incineration overcapacity is not a distant threat but a current concern that should act as a wakeup call for those who have yet to realise that ever increasing incineration capacity is incompatible with the environmental and economic imperative to move towards a more circular economy."
Responding to the report's findings UKWIN National Coordinator Shlomo Dowen said: "The expansion of incineration in England has got to stop. Wales introduced a halt to new incinerators in 2021 and Scotland did the same in 2022. For years we have seen incineration increase, with more and more incinerators burning material that should have been recycled or composted. If England is to increase recycling we must stop building new burners and start diverting recyclate away from incinerators".
A legally binding commitment to halve the amount of England's residual waste going to incineration or to landfill by 2042 came into force on 30 January 2023 under the Environmental Targets (Residual Waste) (England) Regulations 2023.
The target in the regulations is accompanied by interim targets set out in the UK Government's Environmental Improvement Plan 2023, including the target to reduce household and business ('municipal') waste by 29% by 2027 (against a base year of 2019).
The 6-page Incineration Overcapacity briefing and accompanying 28-page Technical Annex are available from: https://ukwin.org.uk/overcapacity/