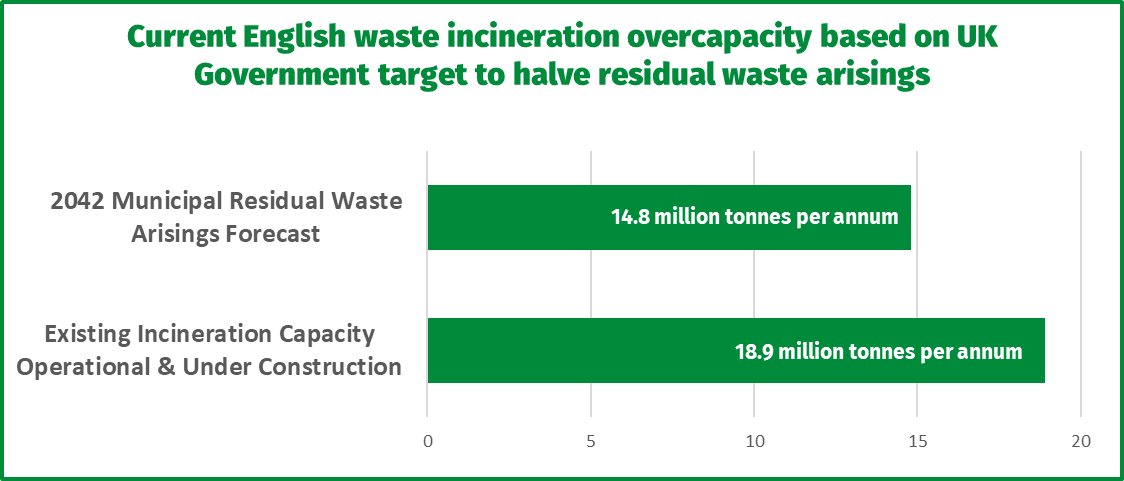 UK Incineration Overcapacity
The UK already has more incineration capacity existing and under construction than we will have genuinely residual waste to burn (especially if the Governments adopts its residual waste reduction targets). Even if incineration were the best way to deal with genuinely residual waste, then this does not justify new capacity.
Government Policy: Burn less, recycle more
The Environment Act is now law
England has a target to recycle 65% of municipal waste by 2035
UK Government is proposing to halve incineration and landfill by 2042, which they say would represent a recycling rate of around 70-75%
This could not only reduce the profits from incineration but could also be expected to free up existing capacity, as Councils will want to avoid the tax and therefore send less waste to incineration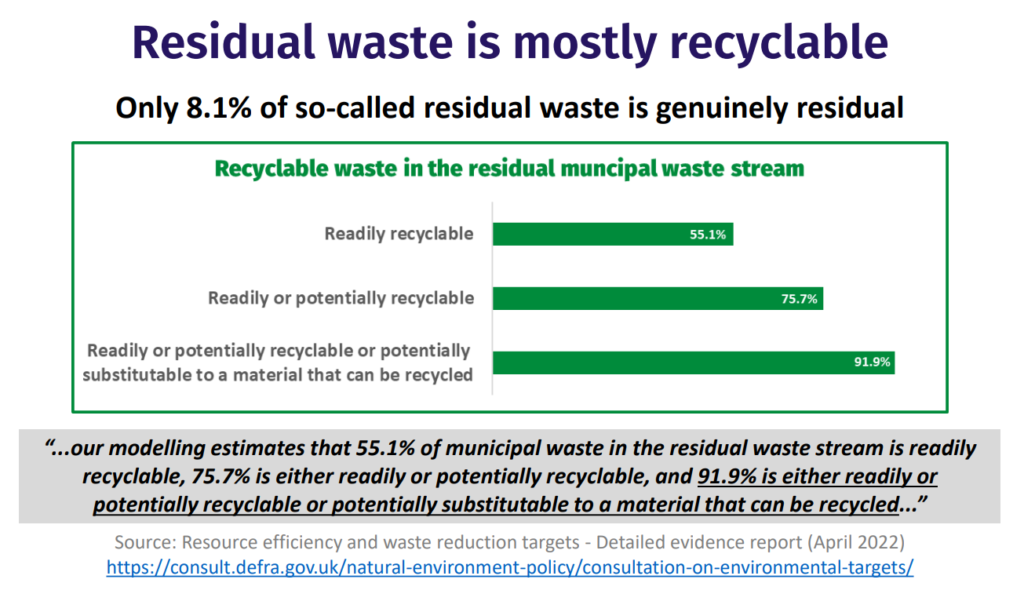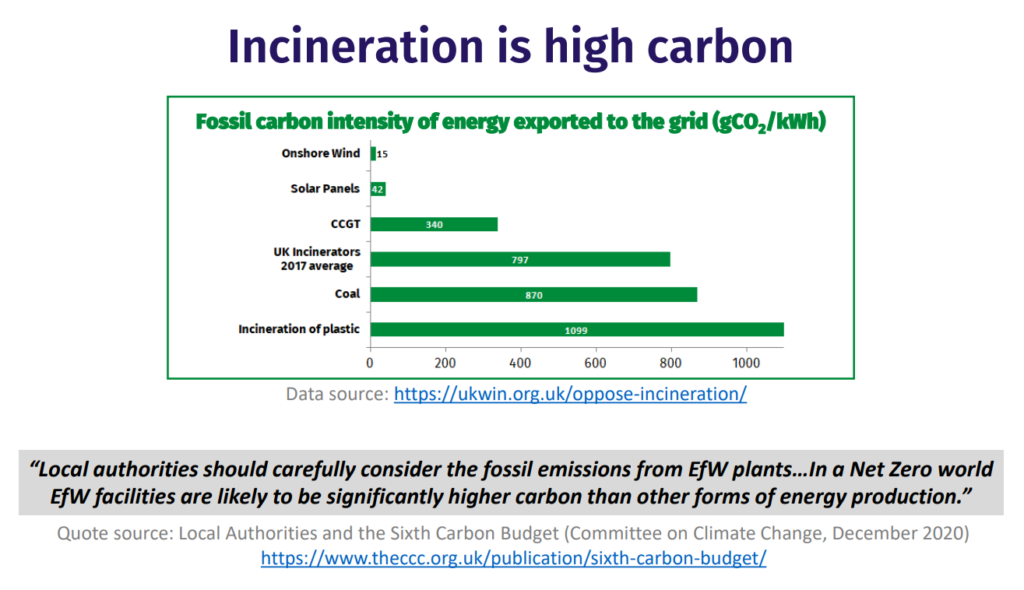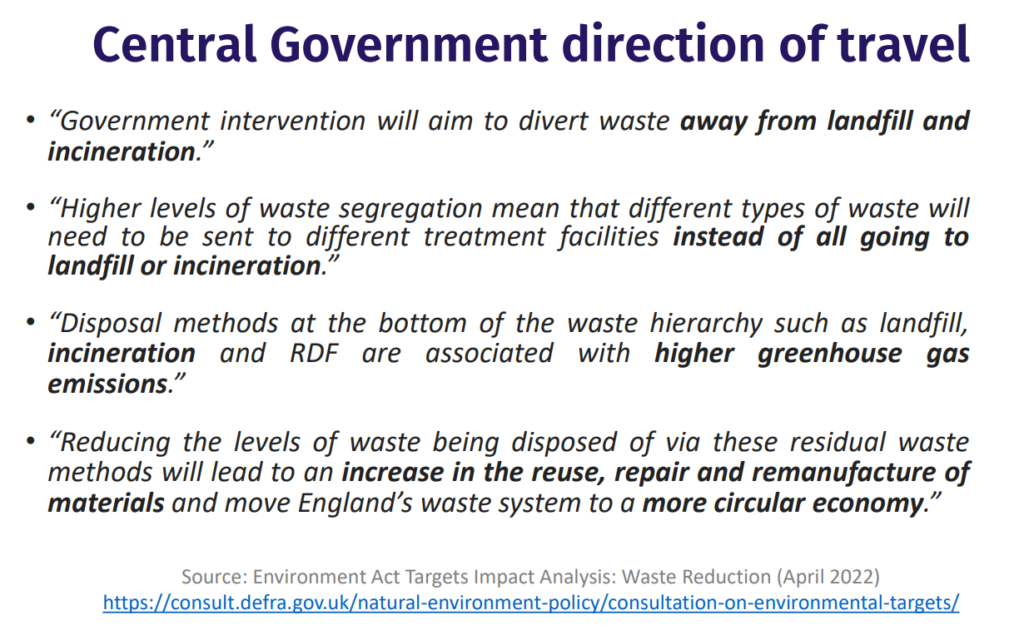 'Only six more' EfWs needed in the UK
The latest UK Energy from Waste (EfW) Statistics – 2021 were published by specialist consultancy Tolvik in May 2022.
https://www.tolvik.com/wp-content/uploads/2022/05/Tolvik-UK-EfW-Statistics-2021_Published-May-2022.pdf
We are clearly in the latter stages of the development profile for EfW plants. [But] we estimate that only six more are needed if the UK wants to be a sensible market

Adrian Judge, Tolvik director, told MRW (Materials Recycling World)
The report notes that EfW data remains patchy in three areas: CO2 emissions, net calorific value and the application of the correct units in reporting the use of consumables. It says: "With the increased focus on carbon emissions, over time the first two metrics are likely to become increasingly important."
https://www.mrw.co.uk/news/only-six-more-efws-needed-in-the-uk-06-05-2022/
New UK Government Target
"halving the waste that ends up at landfill or incineration by 2042"
New, long-term environmental targets announced by the UK Government on 16 March 2022, are a cornerstone of the government's Environment Act, which passed into law in November 2021. They will drive action by successive governments to protect and enhance our natural world.
https://www.gov.uk/government/news/delivering-on-the-environment-act-new-targets-announced-and-ambitious-plans-for-nature-recovery
As 2042 is within the operational lifetime of the proposed Horsham and other incinerators, this proposed target is highly relevant to the question of whether or not the capacity proposed is needed and its economic viability.
The Government makes clear on pages 28–30 of their 'Consultation on Environmental Targets' document that reducing the incineration of waste is desirable, stating: "Tackling residual waste reduces the environmental impacts of treatment, including air, soil, and water pollution, and unnecessary energy use. It is more sustainable to prevent waste completely and, where waste is unavoidable, to recycle it…The proposed target can drive both waste minimisation and recycling of unavoidable waste…"
The significance of this target can be clearly seen by comparing English waste incineration capacity (existing and under construction) with anticipated municipal waste arisings: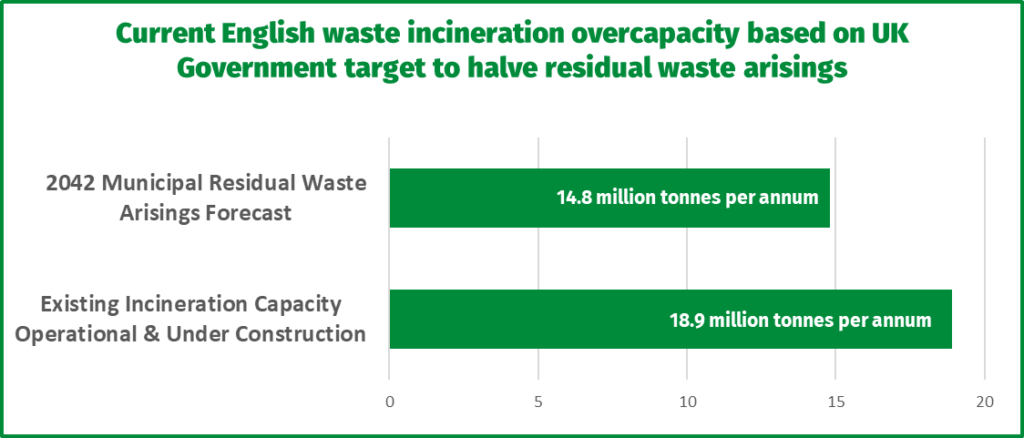 Halving residual waste by 2042 would reduce 'black bag waste' arisings to less than 15 million tonnes. There is already nearly 19 million tonnes of English incineration capacity that is either operational or under construction.
Source: UKWIN 18 March 2022
Incinerators proposed in Horsham and elsewhere require re-evaluation, in light of Government ambitions to reduce residual waste arisings to a level well below current levels of incineration capacity.
United Kingdom Without Incineration Network (UKWIN)
• Founded in 2007
• UK-wide network supporting local anti-incineration campaigns
• Currently working with around 50 local groups
• With our members, we helped prevent more than 100 incinerators
• Working to inform waste and resource policies
• Countering greenwash with fact-based evidence
• Maintain a website at https://ukwin.org.uk/
See Other Ni4H Posts
Environment Agency Issued Draft Documents for Public Comment by 26 June 2022 11.59pm
Is Incineration a Good Investment?
England – Waste Incineration Overcapacity!